Obituaries
Every attempt is made to provide up-to-date service information. Notices listed here may or may not have an obituary posted on our site due to family wishes. On-line condolences are open to send up to two weeks following services, and obituaries are kept on-line to view for six months.
If you wish to view an obituary not posted or if you have other questions, please give us a call 715.830.5470, or send a us an email.
Community Outreach Events
Senior American's Day - March 18, 2014
Mark your calendar for the 2014 Senior American's Day to be held on Tuesday, March 18 in Davies Center of UW-Eau Claire.
On Tuesday morning we will present "Why Should I Pre-plan My Funeral?" We make plans for retirement, vacations, even dinner. But why not the inevitable - our own funeral? Join us as we talk about funeral options, costs, cremation, prefunding, and more. Also be sure to stop by our exhibit on the main floor as you enter Davies Center!
The theme this year is Fun, Fit, Focused and Fulfilled! For more information visit:
http://www.uwec.edu/CE/programs/SeniorDay.htm
FUNERAL PRE-PLANNING NIGHT AT THE BALLPARK


Hard to think Baseball at this time of year, but MARK YOUR CALENDARS! We are doing it again!! We will be Game Day sponsors for the Friday, June 20, 2014 home game. Fireworks will follow the game.
Watch for more information!!
EVENING OF REMEMBRANCE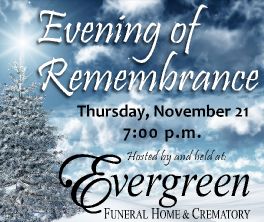 The sights, sounds, & smells of the Holidays stir up our memories. Those who experienced the death of someone loved can find these memories both wonderful & yet difficult.
Our Annual Evening of Remembrance which was held on November 21 provided words of comfort, ideas on how to cope during this time, and offered support to those who shared this special time with us. The season & memory of loved ones was celebrated with an ecumenical service.
UW-EC STUDENTS TOUR EVERGREEN
Students from the UW-Eau Claire tourrf the funeral home on Novmeber 5 as part of their Death and Bereavement class. Participants made up students from both the nursing and social work programs at the University. We host this tour annually for the fall and spring semesters.
Comments from past participants:
"I have been excited for this field trip since before the semester even started. ...I feel the Beede's are very careful to respect the dignity and worth of an individual even after death."
"..the tour was extremely interesting. Jeff showed us a lot behind the scenes I would never have been able to see otherwise. He demystified the whole funeral process and made it less scary."
"The funeral home tour was fun for me. It really shot down the wrong ideas that I had associated with them."
"I liked the fact they do everything in their funeral home when someone has chosen cremation. I think that gives families a sense of ease that they don't need to worry about where their loved one is."
If you have a group or are an individual that would like a tour of our funeral home, please contact us either by sending an email or by calling at 715-830-5470.
FINAL AFFAIRS SEMINAR


A Guide To Arranging Your Personal
and Legal Affairs

This annual seminar, held this year on April 18 at Mayo Clinic Health System-Luther Campus, was once again an informational packed day. Along with us, other presentors at this seminar included local attorneys, physicians, palliative care and hospice nurses, healthcare chaplain, Veteran's service officer, and elderly benefits specialists. This seminar was developed to help community members obtain knowledge of end-of-life issues; learn communication skills to use with family memebers and health care providers; obtain valuable information and practical advice from local professionals; clarify misconceptions surrounding end-of-life; and connect with community resources.

This event was Sponsored by: Aging & Disability Resource Center of Eau Claire County; and Chippewa Valley C.A.R.E Coalition
TESTIMONIALS


Family of Jessica Oliver
Jeff & Kelly - Thank you so much for organizing the most beautiful visitation/service for our Jessica. You are clearly experts in your field; from start to finish, you simply took care of everything. Words cannot express how we feel about the journey. Keep up the great work. - Joe and Rita
The Family of Doris Moen Jeff and Kelly ~ Thank you for the beautiful job you did with Mom. She was so pretty!! We were so glad the open viewing worked out. - Robert, Kris, Karrie
The Family of John Kirst
Jeff and Kelly, Thank you for providing a wonderful service for my Dad. Your support and thoughtfulness made our day of sorrow a day of comfort and "worry free". Everything you did was so greatly appreciated.
-My heartfelt thanks, Jaci McCune
Joe Grulkowski Family
Thank you for everything you did to help us arrange our uncle's service. You helped us get through a very difficult time with little stress and keeping us organized and knowing what to expect and do all through the process. We truly appreciate everything you did for my uncle and us. - Paula and family
Jon Fisher Family
Thank you for the beautiful memorial service you gave Jon. He wouldn't have had it any other way. The flower arrangements and bow hunting table looked beautiful. You attention to detail and sincerity helping us through this difficult time gave us peace to know he is in God's hands. - Betsy Fisher
The Family of Mike Bluemel


Jeff and Kelly, Words can't even describe the gratitude we have for everything you've done for us. Thank you, thank you, thank you.
- Pat, Ron, Shannon
BELDEN, Richard "Dick" E., Sr., age 83
Died: Friday, August 30th, 2013
View this obituary. »

BERG JR., Michael J., age 41
Died: Wednesday, September 25th, 2013
View this obituary. »

BORSHEIM, Helen J., age 87
Died: Thursday, October 24th, 2013
View this obituary. »

CHRISTIANSON, Nada J., age 87
Died: Wednesday, October 23rd, 2013
View this obituary. »

CONKLIN, Janet A., age 84
Died: Saturday, October 19th, 2013
View this obituary. »

COOK, King James, age 75
Died: Tuesday, November 26th, 2013
View this obituary. »

DREKE, Donald L., age 41
Died: Sunday, February 23rd, 2014
View this obituary. »
Send an online condolence message. »

EMERSON, Mavis, age 70
Died: Saturday, January 11th, 2014
View this obituary. »

ERICKSON, Barbara J., age 65
Died: Thursday, October 17th, 2013
View this obituary. »

FIORE, Betty J., age 88
Died: Tuesday, January 7th, 2014
View this obituary. »

GEYER, Fred A., age 90
Died: Tuesday, March 4th, 2014
View this obituary. »
Send an online condolence message. »

GEYER, LaVerne A., age 86
Died: Tuesday, November 5th, 2013
View this obituary. »

GILES, Gene, age 97
Died: Wednesday, August 21st, 2013
View this obituary. »

GOUGE, Paul R., age 62
Died: Friday, August 23rd, 2013
View this obituary. »

GRAASKAMP, Charles F., age 79
Died: Tuesday, October 8th, 2013
View this obituary. »

HAGEN, Charles "Chuck" T., age 76
Died: Monday, December 23rd, 2013
View this obituary. »

HARTKEMEYER, Joan R., age 82
Died: Wednesday, January 29th, 2014
View this obituary. »

HARTMANN, Victor M., age 88
Died: Wednesday, November 20th, 2013
View this obituary. »

HAYES, Sandra "Sandy" S., age 80
Died: Thursday, January 23rd, 2014
View this obituary. »

HENDRICKSON, Elizabeth "Betty" M., age 88
Died: Tuesday, December 17th, 2013
View this obituary. »

HESTEKIN, Joyce E., age 91
Died: Thursday, February 27th, 2014
View this obituary. »
Send an online condolence message. »

KISHABA, Albert N., age 84
Died: Saturday, October 19th, 2013
View this obituary. »

KOERNER, Marvin J., age 94
Died: Thursday, February 20th, 2014
View this obituary. »
Send an online condolence message. »

KOHLHEPP, Nyles "Nub" R., age 72
Died: Thursday, March 6th, 2014
View this obituary. »
Send an online condolence message. »

KOLLER, Walter S., age 94
Died: Tuesday, October 22nd, 2013
View this obituary. »

LARSON, Sophie V., age 88
Died: Tuesday, October 8th, 2013
View this obituary. »

LOKRANTZ, Lincoln "Lonnie" P., age 71
Died: Saturday, January 18th, 2014
View this obituary. »

MARCHETTI, Raven A., age 59
Died: Thursday, December 13th, 2012
View this obituary. »

MARTIN, Dennis A., age 64
Died: Saturday, February 8th, 2014
View this obituary. »
Send an online condolence message. »

MISSMAN, Marvin L., age 89
Died: Wednesday, December 11th, 2013
View service information. »

MOEN, Randall G., age 59
Died: Wednesday, December 18th, 2013
View this obituary. »

NELSON, Kim R., age 47
Died: Sunday, November 10th, 2013
View this obituary. »

NELSON, Ruby M., age 103
Died: Friday, December 13th, 2013
View this obituary. »

PETSKA, Kathleen "Kathy" S., age 58
Died: Tuesday, January 14th, 2014
View this obituary. »

REHBERG, Gene A., age 80
Died: Saturday, October 6th, 2012
View this obituary and photo gallery. »

SPAULDING, Bobby C., age 82
Died: Monday, October 7th, 2013
View this obituary. »

STUTTGEN, Carol L., age 72
Died: Wednesday, November 13th, 2013
View this obituary. »

THURSTON, Elizabeth J., age 88
Died: Friday, October 11th, 2013
View this obituary. »

TOLBERT, Caleb D., age 0
Died: Monday, September 16th, 2013
View this obituary. »

VENESS, Harriett B., age 77
Died: Tuesday, February 4th, 2014
View this obituary. »
Send an online condolence message. »

WALICKI, Gene T., age 66
Died: Sunday, December 15th, 2013
View this obituary. »

WEGGEL, Daniel P., age 32
Died: Friday, August 23rd, 2013
View this obituary. »