LA LIBERTE, Ruth Marie, age 92
Died: Saturday, January 28th, 2023

Mass of Christian Burial: 10:30 a.m. on Saturday, February 4, 2023 at St. Olaf Parish with Father James Kurzynski officiating (3220 Monroe Street, Eau Claire)
Visitation: family will receive friends from 9:30 a.m. until time of Mass at church
Interment: Lakeview Cemetery, Eau Claire, Wisconsin
In lieu of flowers, memorials in memory of Ruth can be given to https://www.saintolafparish.org/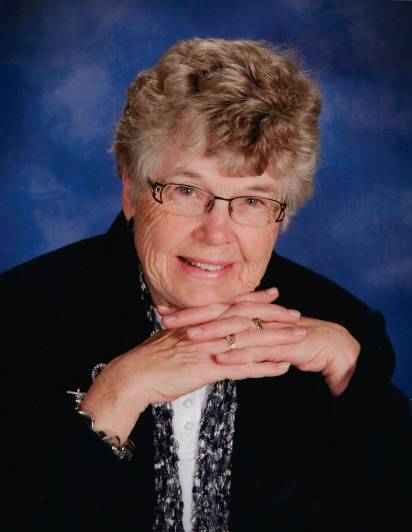 Ruth M. La Liberte, age 92, of Eau Claire, died on Saturday, January 28, 2023, at Willowbrook Assisted Living facility lovingly surrounded by her family after a short struggle with cancer.
Ruth was born June 13, 1930 to the late Berger and Marie (Meta Zwick) Olson in Rhinelander, WI. Ruth then moved to Milwaukee where she attended high school.
Ruth met James La Liberte while he was at Marquette Dental School in Milwaukee, WI. They were married on August 22, 1953 at a Catholic church in Niagara, WI, Jim's home town. Ruth and Jim moved to Neenah, WI, where Jim had a private dental practice and they had 6 children. In 1964, the family moved to Arcadia, WI where they had two additional children. Ruth was active in Arcadia on parish organizations and was the President of the La Crosse Deanery for a time, as well as other volunteer efforts. Many years were spent raising their 8 children in a small town with endless sports and outdoor activities.
After Jim's retirement in 1989, they moved to Eau Claire, WI where their time was focused on their many grandchildren and ultimately great grandchildren. In later years, she lovingly cared for Jim until his death on January 28, 2012; exactly 11 years (to the day) prior to Ruth's death.
For about ten years Ruth worked at Dove Health Care Nursing Home. She sang in the Saint Olaf's church choir, was very active with the PCCW, and was a daily mass lector for years. Ruth volunteered for Thursday Eucharistic Adoration and was a member of TOPS exercise and health group. At the Eau Claire Senior Center she enjoyed cards and was a member of the Happy Hookers knitting club. She distributed communion to patients at Mayo Clinic Health System-EC and cooked meals for the Sojouner House for the homeless. Ruth's children and grandchildren carry on her example of volunteering for many civic and charity organizations.
At age 82, Ruth traveled to Rome and went back to school earning her fist college credits in Bible Studies from Viterbo University at the age of 89; proving you are never too old to pursue a dream or interest.
Ruth is survived by her children, Paul (Mary) of Eau Claire, Steve (Nancy) of Onalaska, WI, Mary (Geoff) Goodland of Eau Claire, Chris (Greg) Benrud of Appleton, WI, John (Susan Garner) of Yachats, OR, Lisa (Jeff) Mack of Eau Claire, Jim (Claudia) of Summerset, WI, and Mark (Lisa) of Rochester, MN; 15 grandchildren; 25 great grandchildren; half-sisters, Jacqueline Woodrow and Mary Davis; many other family members and friends.
She was preceded in death by her husband, James La Liberte; parents; and sister, Phyllis Olson.