WEISS, Travis L., age 40
Died: Sunday, October 15th, 2023

Memorial Gathering: from 12:00 noon to 3:00 p.m. on Sunday, October 22, 2023 at the funeral home
A private interment will be held at a later date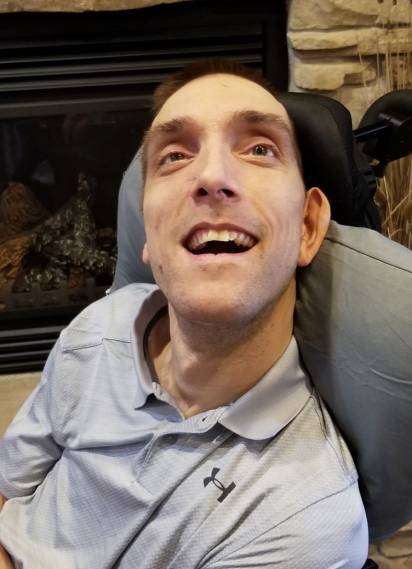 Travis L. Weiss, age 40, passed away peacefully on Sunday, October 15, 2023 at Mayo Clinic Health System in Eau Claire surrounded by family.
Travis was born July 5, 1983 in Eau Claire and graduated from Memorial High School. He loved spending time in the outdoors, especially at his favorite place - his home on the lake. Many hours were enjoyed on the pontoon and snowmobiling with Grandpa. Listening to music was a favorite pastime. His faithful canine companion, Chantilly, was always by his side. When road trips in the RV were taken, Travis was Jeff's co-pilot with Mom in the back.
He loved when people would come to visit; whether it was family or friends. He especially loved when his nieces came over as he loved to hear them play. All those who had the fortune to know or meet Travis will hold dear the memory of his infectious smile.
He is survived by his parents, Joyce and Jeff Reuter; father, Nicholas (Shawn) Weiss; siblings, Bradley Weiss (Shelly), Tia Reuter (Jason), Ken Reuter, Sophie Reuter, and Nikki (Adam) Wiggins; nieces, Bailey and Elsie; grandmothers, Carol Nelson, Jean Johnson and Lorena Weiss; aunts and uncles, Robert (Wendy) Nelson, Donnie Nelson, Judy Knudtson, Loren (Roselyn) Nelson, Linda (Kim) Newman, John (Tania) Reuter, Pete (Sue) Reuter, Beth (Roger) Klein, Scott (Sherri) Reuter, Charles (Bonnie) Weiss, Emmy (Ken) Sherrard, and Jenny (Tom) Odegard; many, many other family members and friends.
Travis was preceded in death by his grandfathers, Lloyd Nelson, Robert Reuter, Robert Weiss, and Victor Johnson; uncles, Michael Nelson and Joseph Weiss.