KNUTSON, Joann R., age 92
Died: Wednesday, November 23rd, 2022

Funeral Service: 11:00 a.m. on Wednesday, December 7, 2022 at Shepherd of the Hill Lutheran Church in Elk Mound (207 University Street) with Pastor Mary Eide officiating
Visitation: family will receive friends from 9:00 a.m. until time of service at church
Interment: Springbrook Cemetery, Town of Springbrook, Wisconsin
In lieu of flowers, the family would prefer donations made to Shepherd of the Hill Lutheran Church http://sothem.org/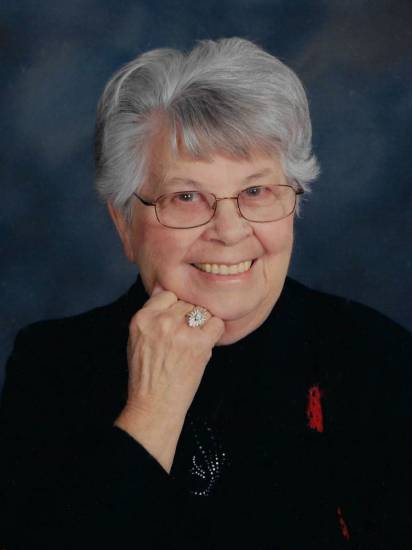 Joann R. Knutson, age 92, of Eau Claire, passed away peacefully on Wednesday, Nov. 23, 2022 at Care Partners in Eau Claire surrounded by several family members.
Joann was born on March 18, 1930 to the late Harold Gilbertson, Sr. and Ruth (Patterson) Gilbertson Johnson in Eau Claire. Joann was always busy with family, church and work outside the home. Some of her jobs included Fabri-Tech, Presto and Davies Center at the UW-EC. At church she taught Sunday School, was a part of the Ladies Aid, helped the quilt guild prepare quilts and helped make lefse. Her family will miss her home made lefse, flat bread and breadsticks. She was a wonderful hostess, always offering coffee and some type of treat to eat. There are a few family members that think Joann should have been awarded the "Best Yodeler of the Bottoms" because of the way she would call for us to come into the house. More recently her favorite pastimes included doing picture and word puzzles.
Martin and Joann met one warm, summer Saturday evening. Joann and a bunch of her girlfriends drove to Elk Mound to roller skate. Sonny was already at that roller rink. When Sonny saw this group of girls come in, his eyes were drawn to Joann. So, he skates over and asks if she is going to skate. Joann says that she is, and as soon as she gets her skates on, Sonny approaches her again and asks her to skate with him. And so began a life of love and dedication to each other.
Joann is survived by her children, Philip (Linn) of Fall Creek, David (Mae Joy), Ronald (Shelly) both of Eau Claire, Ruth (Steve) Alf of Menomonie, Barb (Chris) Strand of Annandale, MN, and Mark (Vicki) of Eau Claire; grandchildren, Chad (Brad), Joe (Jeni), Sandra (Mark), Marty (Jen), Bethany (Erick), Mike (Jana), Karl, Misty (Matt), Emily, Jeremy (Alex), Sam, Margaret, Donald, Katherine, Peter, Matthew (Jenny), and Timothy (Paige); 13 great grandchildren; sisters, Val Ahnemon and Sue Barquist; sisters-in-law, Elaine Johnson and Lenora (Orv) Wollum; many nieces, nephews, other family members and friends.
She was preceded in death by her husband, Martin "Sonny"; her parents; brothers, George, Robert, Leslie, Harold, John and Charles; and sister, Janet.
Joann's family would like to thank the staff at Care Partners Memory Care and St. Croix Hospice for their great care.