HANSON, Marvin Henry, age 97
Died: Sunday, April 9th, 2023

A private family service will be held.
Interment: Lakeview Cemetery, Eau Claire, Wisconsin
In lieu of flowers, memorials may be made in memory of Marv to the charity or organization of your choosing.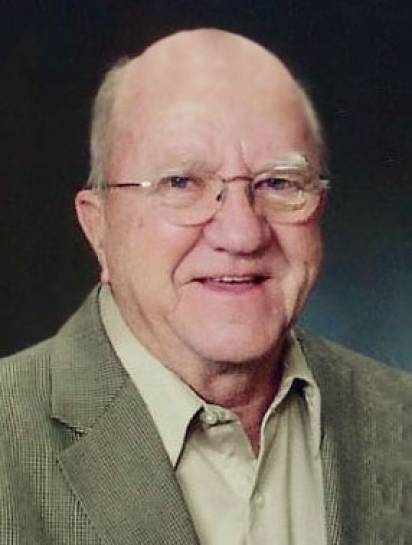 Marvin Henry Hanson, age 97, of Eau Claire passed away on Easter Sunday, April 9, 2023 at Mayo Clinic Health System-Eau Claire.
Marvin was born December 7, 1925 to the late Martin and Laura (Bauer) Hanson in Eau Claire. He graduated in 1943 from Eau Claire Senior High School and enlisted in the U.S. Navy. He proudly served aboard the battleship Mississippi as a radio man in the South Pacific and was present in Tokyo Bay for the signing of the surrender. He went on to attend the Minnesota School of Business, graduating in 1949. Marv then worked for NCR Co. (National Cash Register) for the next 31 years; taking an early retirement in 1981.
In 1947, Marv was confined to Luther Hospital after a serious accident and while there met a student nurse, Mary, who was assigned to his room. Two and half years later, after finishing their schooling, they were married and spent 74 happy years together. They lived their entire lives in Eau Claire and were members of Our Saviors Lutheran Church.
Marv loved Northern Wisconsin where they enjoyed fishing, boating, water skiing, biking, camping, golfing and canoeing in the summer and ice fishing, snow mobiling and skiing during the winter months. They enjoyed traveling together and were able to visit 49 of the 50 states - missing only Alaska. Marv and Mary also covered all the provinces of Canada and quite a bit of Mexico and made several trips to Europe.
He is survived by his wife, Mary; son, Marc (Leslie) of Bloomington, MN; grandson, Mike (Sarah) Hanson of Madison, WI; granddaughter, Laura Hanson (Tyler Moe-Slepica) of Minnetonka, MN; great grandchildren, David, Elizabeth, Matthew, Solveig, and Ingrid; many nieces, nephews, other family members and friends.
Marvin was preceded in death by his parents; brother, Louis; sister, Helen Mollere; and sister-in-law, Janet Frey.