ANDERSON, Orville A., age 92
Died: Friday, November 11th, 2022

Memorial Service: 12:00 p.m. (Noon) on Friday, November 18, 2022 at Trinity Lutheran Church in Eau Claire with Reverend Patrick Patterson officiating
Visitation: from 10:00 a.m. until time of service at the church
Interment: Rest Haven Cemetery, Town of Washington, Wisconsin
In lieu of flowers, the family requests memorials be given to Trinity Lutheran Church food pantry https://trinity-ec.org/give/ or to the charity/organization of the donors choosing.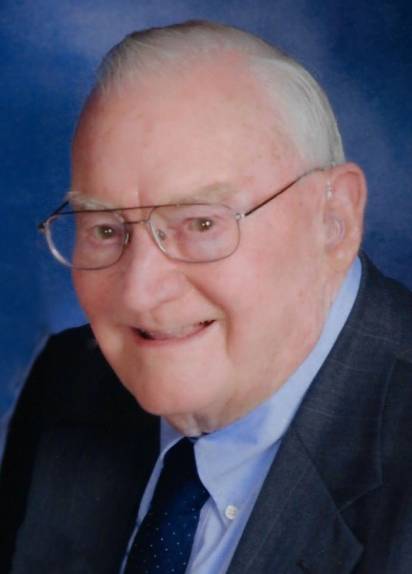 Orville A. Anderson, age 92, of Eau Claire, died on Friday, November 11, 2022 at Mayo Clinic Health System - Eau Claire.
Orville was born November 2, 1930 to the late Andrew and Anna (Johnson) Anderson in Clear Lake (Black Brook Township), Wisconsin. In 1948, he graduated from Clear Lake High School. Orville proudly served our country in the U.S. Army during the Korean Conflict from 1951-1953 with the Scout Dog Patrol Unit #26 with his German Shepard, Avie.
On August 15, 1953, he was united in marriage to Shirley Nordin at Zion Lutheran Church in Turtle Lake, Wisconsin. The family moved to Eau Claire in 1953 where Orville began working for Northwest Enterprises which was owned by his cousin, Carl Anderson. In 1980, he bought out Carl eventually selling the business in 1997 to retire.
Orville was a charter member of Trinity Lutheran Church. In 1976, he and Shirley moved to a 40 acre horse farm where they started with Shetland ponies and progressed up to Belgian draft horses - up to 6 horses at a time. He loved spending time on his John Deere tractor, Jeep, cutting wood, and woodworking.
He loved spending time outdoors. Many special memories were made with family and friends hunting deer in Wisconsin and Montana and fishing and camping at their trailer in Chetek. Over the years, Orville and Shirley traveled to almost all 50 states and enjoyed a few cruises as well. Orville was able to attend 15 reunions held around the country to reconnect with his buddies from the Army Dog Scout Patrol Unit #26.
Orville was an amazaing husband, dad, grandfather, mentor, and an example to his family. He meant everything to us and will be deeply missed, but never forgotten.
Orville is survived by his loving wife of 69 years, Shirley; children, Robert, Susan (John) Mohr, and Roger (Kim); grandchildren, Andrew, Tracy (Eric) Carrillo, Kyle, Megan, Jordan, and Samuel; many nieces, nephews, other relatives, and friends.
He was preceded in death by his son, David; baby son, Thomas; parents; sister, Ruby (Gerald) Tanner; and brother, Hulbert (Irene) Anderson.