FREID, Ione G., age 92
Died: Wednesday, November 9th, 2022

Funeral Service: 11:00 a.m. on Tuesday, November 15, 2022 at Evergreen Funeral Home (off Golf Road one block east of Hwy 93) with Reverend David Irgens officiating
Visitation: one hour prior to the service
Interment:Rest Haven Cemetery, Town of Washington, Wisconsin
In lieu of flowers, the family requests memorials be given to Saving Grace Church http://saving-gracechurch.com/,
Bolton Refuge House Inc. https://www.boltonrefuge.org/ ,
or the organization/charity of the donor's choosing.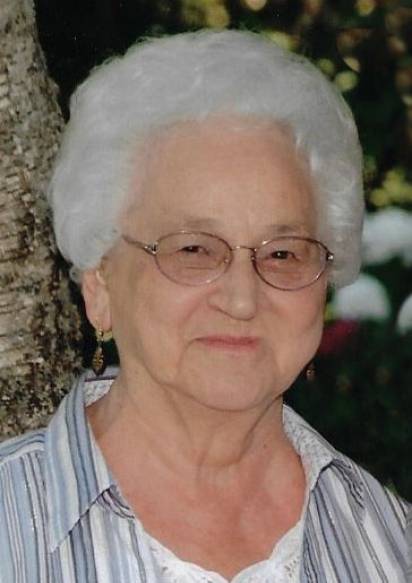 Ione Gladys Freid, age 92, died on Wednesday, November 9, 2022 at Care Partners Memory Care in Altoona.
Ione was born April 12, 1930 in the farm home in the Town of Washington to the late George and Ina (Barron) Mayer. She grew up on the farm where she helped with the many farming activities; Ione was one of eight children in the family.
Ione was a lifetime member of Grace Lutheran Church in Eau Claire where she was baptized, confirmed, and married, later becoming a member of Saving Grace Lutheran Church. As she grew up, she became involved in many activities at church: Lutheran Daughters of the Reformation, teaching Sunday school, and Youth Fellowship - a group of post high school young people where she met her future husband.
She became a trained Dental Assistant working for several years for Dr. A.C. Murphy. She later worked for Timm's Ice Cream Parlor on Hogeboom Ave.
On August 17, 1957, Ione married Harold Freid at Grace Lutheran Church. They started their married life in Wisconsin Dells where Harold was teaching school and moved back to Eau Claire when Harold became a teacher at Memorial High School.
Ione and Harold were parents of four children and as the children were growing up, Ione was a stay at home mom. When they were all involved in various stages of school, she then took up employment outside the home. Ione worked at H.C. Prange Department Store for a short time and later went to work for Dr. Smith as a dental assistant. After taking a N.A. course at the tech school, Ione worked at Sacred Heart Hospital for 15 years, retiring in 1993. Ione always had the need to keep busy. So between the children's school activities, she found work with Lenmark-Gomsrud-Linn Funeral Home and then later at Younkers Department Store. Ione loved being with people and the challenge of each new job.
Ione was initiated into the Eau Claire Chapter No. 126 Order of the Eastern Star where she served as Worthy Matron and later served as Adah Star Point. After Eau Claire closed its chapter, she and Harold transferred to the Chippewa Chapter No. 112 where she served as Adah for several years. Ione was also a member of the Order of Amaranth where she served as Royal Matron and was also a member of the White Shrine of Jerusalem. When Harold became active in the Masonic Organization, Ione traveled with him to many states through the years for various meetings and social gatherings meeting new people and making new friends.
Ione enjoyed doing crafts such as ceramics and cross stitch embroidery, most of which she gave away. She also like to cook and bake for family and friends. She enjoyed the many out of town weekend shopping trips with her daughters and grandkids and the week-long trip to Texas with two minivans. During her retirement years, she volunteered at the Senior Center and Syverson Home Gift Shop.
The family would like to thank the following for their help in this last leg of her journey, Lakeland Home Health, Care Partners of Altoona, and Moments Hospice. A special thank you to her sister, Edna Carlson, for her love and support through this. Her journey would have been more difficult withouth them.
Ione is survived by her daughter, Alice (Gerald) Dusick; son, Brian Freid; grandchildren, Amanda Freid, Chelsea Dusick (Kyle), Steven Dusick, Nathan (Susan) Soppeland, Christopher (Jamie) Soppeland, Matthew (Jen) Soppeland, Laurie (Jon)Wollman, Holli Freid, Christina (Brent) Schofield, Jennifer Freid, and Andrew Freid; great grandchildren, Hailey, Rowan, Lincoln, Jason, Anna, Kayson, Christopher, Isaiah, Simon, Harper, Beckett, and Reese; sister, Edna (Harland) Carlson; daughter-in-law, Jackie Freid; many nieces, nephews, other family members and friends.
She was preceded in death by her husband, Harold (2019); son, Gary (2012); daughter, Lenora Soppeland (2021); her parents; brothers, Arnold, Kenneth, Roger, and Darold Mayer; and sisters, Lila Alice and Arvilla Mitcher.