HANSON, Hartwick E., age 97
Died: Monday, June 19th, 2023

Celebration of Life: 11:00 a.m. Wednesday, July 19, 2023 at the funeral home with Pastor Nick Henseler officiating
Visitation: 9:30 a.m. until time service on Wednesday at the funeral home
Interment: Rest Haven Cemetery, Town of Washington, Wisconsin
Dress for a casual summer celebration!
In lieu of flowers, the family would prefer memorials be given to Faith Lutheran Mission Church (1704 Hogeboom Ave., Eau Claire, WI 54701) in memory of Hart.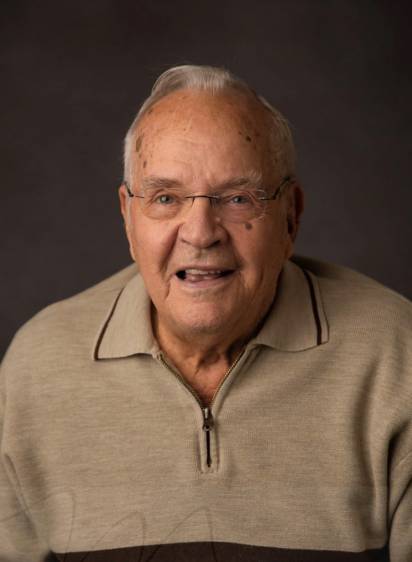 Hartwick "Hart" Hanson, 97, passed away peacefully on Monday, June 19, 2023, under the loving care of Grace Willowbrook Assisted Living and Mayo Hospice. Hart was born on March 10, 1926 to Noble and Betty (Pedersen) Hanson in the Town of Seymour, where he resided for the first 74 years of his life before moving into the city of Eau Claire, Wisconsin.
Shortly before his 16th birthday, Hart was thrust into the role of head of household following his father's premature death. He continued operating the family farm for many years, but also began learning the carpentry trade from his Uncle Hubert Rice. Eventually, Hart went on to own and operate Hartwick Hanson Home Builder, constructing numerous homes in 21 years, until his semi-retirement in 1988. He continued to work a reduced schedule for the next 14 years for his son, Wayne. It was mainly for the social time with "the guys".
Hart's social personality and leadership was evident in many ways, including church activities, motor home trips to Florida with friends, organizing bus trips to Chanhassen Dinner Theatre, camping trips to Lake of the Pines, and times of relaxation and fun at the cabin on Island Lake. His love of life and keen sense of humor will be missed by all who knew him.
Hart was united in marriage to Shirley Hommen on September 20, 1952 at Our Savior's Lutheran Church in Eau Claire. He was a wonderful father and a fiercely dedicated, loving husband to Shirley for over 48 years.
He is survived by his son, Wayne (Sandra) of Eau Claire; daughter, Sonja (Paul) Andrashko of Eau Claire; two grandsons; five granddaughters; 14 great-grandchildren; brothers, Alden Hanson (since Hart's passing, is now deceased) and Gordon Hanson; sister, Norma (Dennis) Bohman; brother-in-law, Donovan Hommen; sister-in-law, Yvonne (William) Kuhlman; nine nieces; and three nephews; other family members and friends.
Hart was preceded in death by his wife, Shirley; parents, Noble and Betty Hanson; parents-in-law, Helen and Harmie Hommen; sisters-in-law, Barbara Hanson, Beverly Hanson and Marygrace Hommen.