OLSON, Sigvart D., age 76
Died: Friday, September 29th, 2023

Funeral Service: 11:00 a.m. Thursday, October 5, 2023 at Hope Lutheran Church with Pastor Mary Erickson officiating
Visitation: 9:00 a.m. until time of service at church
Interment: Sacred Heart Cemetery, Eau Claire, Wisconsin
In lieu of flowers, memorials are preferred to Hope Lutheran Church or the L. E. Phillips Senior Center in Eau Claire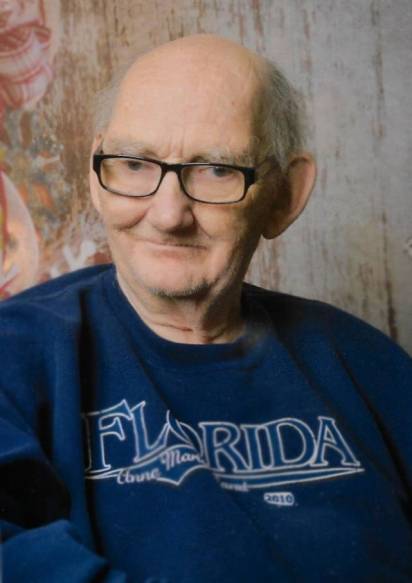 Sigvart "Sig" D. Olson, age 76, passed away peacefully on Friday, September 29, 2023 at Grace Edgewood in Altoona, Wisconsin.
Sig was born April 27, 1947 to the late Sigvart D. Olson, Sr. and Mildred Beck-Olson-Galde in Eau Claire. He grew up in the Township of Seymour. After it was determined Sig had a learning disability in 3rd grade, he continued his education through Eau Claire's special education programs. These programs helped prepare Sig to become a productive, hard working citizen and outstanding employee with the Career Development Center and Reach for many years.
Sig loved to fish back in the day and would sit on the dock for hours hoping to catch a fish. Any nibble would bring up his comment, "Come on, take the bobber down to Chicago." He also loved crafts of all types. His favorite was doing plastic canvas needlepoint with every color yarn one could imagine. He also loved to color pictures; giving them away hoping to put a smile on someone's face.
As an avid sports fan, Sig was always cheering on the Packers, Brewers, Badgers and the North Huskies. In 2011, he was inducted into the North High School Hall of Fame honored for his loyalty to "his" school and constant attendance at games. And then there was bingo; never a game was missed at the care facilities he resided in over the years.
But perhaps the most important part of Sig's life was his belief in and love for Jesus. He lived his life doing good to all people and his contagious smile and laughter will remain in our hearts. He was a good man who taught us so much.
Sig is survived by his brother, Steve (Sharon) Olson; niece and nephew, Travis (Erika) Olson and Kari Pierson; great nieces and nephews, Ashley (Shaun) Starck, James Olson, Jakob Olson, Brady Baumgarten, Kamden Olson, Katie Pierson, and Amanda Pierson; great, great nephew and niece, Samuel and Isabella Starck; other family and friends.
He was preceded in death by his parents; step father, Ernest Galde; grandparents, Joseph and Minnie Beck and Martin and Olga Olson.
The family would like to thank the caregivers at Grace Edgewood Care Facility and with St. Joseph's Hospice for their compassionate service as they cared for Sig.