SIMPSON, Joyce E., age 98
Died: Wednesday, October 18th, 2023

Memorial Service: 11:00 a.m. on Monday, December 4, 2023 at Lake Street United Methodist Church
Interment: Northern Wisconsin Veterans Memorial Cemetery, Spooner, WI at a later date
In lieu of flowers, donations may be made in Joyce's name to Lake Street United Methodist Church https://www.lakestreetumc.org/
or the L.E. Phillips Senior Center of Eau Claire https://lep-sc.org/donate-online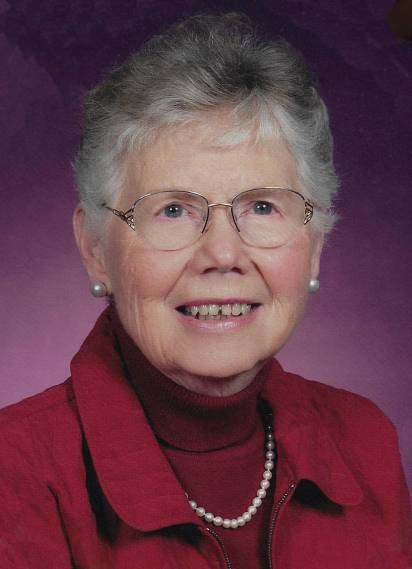 Joyce Elaine Simpson, age 98, of Eau Claire, WI, sadly left us on Wednesday, October 18, 2023 after a short illness. She died at home surrounded by her family.
Joyce was born in Muscoda, WI on June 14, 1925 to the late Howard C. and Dorthea (Murray) Adams. After graduating from Muscoda High School she worked in Madison during WWII, after which she met Keith Simpson. They married on September 14, 1947. They enjoyed 64 years together, raising a family, camping, motorcycling, and snowmobiling. Joyce, a woman of faith, was an active member of Lake Street United Methodist Church and United Women in Faith for almost 50 years. She was a past president of UMW and an active participant in their reading program, and a member of her congregation's "Stephen Ministries." Joyce worked at various office jobs through the years to provide extras for her family. She took most pride for her work as the office manager for Lutheran Social Services.
Joyce was an enthusiastic traveler. She loved and instilled music in her children and grandchildren, attending their events whenever possible. In her retirement years, she joined the L.E. Phillips Senior Center and developed a passion for exercise. In her mid-90's she took up the ukulele with her friends at East Ridge apartments which gave her great pleasure.
Survivors include her children, Janet Dow, Dean (Linda) Simpson, and Joan (David) Hardie; grandchildren, Ryan (Andrea) Dow, Robin (Mike) Hugo, David (Haley) Dow, Jesse (Jami) Simpson, Joanna Simpson, Sarah (Jordan) Kooiman, Kyle (Melissa) Hardie, Elizabeth Hardie (Edwin) and Chris (Taylor) Hardie; 18 great grandchildren; special friend, Don Heath; sister-in-law, Carmelita Adams; and many nieces, nephews, other relatives and friends.
She was preceded in death by her husband, Keith; son-in-law, Mike Dow and brothers, Junior and Garry.